Just going to start this off from the last topic.
Just in case you don't know:
http://tvtropes.org/pmwiki/pmwiki.php/Main/TheWay
gentlemanorcus wrote:

Sage Of The Wise wrote:Well, on a completely unrelated note I now have an urge to go play Tactics Ogre.

Ah yes, you've gotta love the manipulative bastard. Even when he was taking advantage of Kachua, that eyepatch still made him the incarnation of awesome. In the gaiden game,

he killed a freaking angel.

But anyway, good to see I'll be getting some responses. I'll probably be going on another edit spree soon (after I shove off for bed- seriously, 2:20, what the hell's wrong with me?), and it will most likely be another big one, so I probably can't list them all here without screwing up the text. Here's most. Too tired to put up links right now:

Big No

: Kloe in the "normal" ending.

Iron Woobie

: Traziun

Oedipus Complex

: Traziun (open to a lot of interepretation)

Manipulative Bitch (aka. bastard

): Cetsa.

Badass Boast

I'll add Traziun saying the eye for an eye line in his death scene, but I'll keep the line in Catch Phrase too.

Epileptic Trees

I'll link to this forum.

Narm

Can you guys think of any other narm moments? I respect Lun, but his habit of putting in three exclamation points can be pretty narmy.

Heroic Sociopath

Rhue, after Episode Four.

Kill the Cutie

Poor Lyrra. Poor Lexus.

Talkative Loon

Dirk.

Insane Equals Violent

Though Rhue didn't really stray from killing before, from Episode Five onward, he seems to be willing to kill anyone who gets in his way.

Trigger Happy

See Insane Equals Violent.

That's it for now. I'm going to sleep, so it should be a little while before I get up and post. Just argue in the comments if you disagree with any of these. Speaking of which, should we start a new thread for the TV Tropes page? We're starting to get off track on this thread. Jeez, I'm long winded.
In terms of Narm, the two moments that stand out for me are that bit in Episode 1 after the rabbit race where you have to slaughter your way through 5 RTP "Brian" clones in a row, and this little ditty from Episode 5: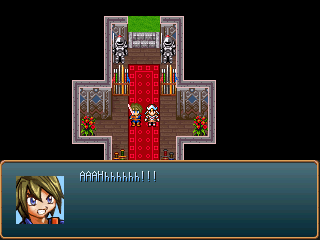 Yeah, Lun definitely goes overboard with the exclamation points sometimes. In my mind the prevailing explanation is that there are certain parts where it's pretty evident that Lun was not running on a lot of sleep.
And as a testament to The Way's continually miraculous power, I was going to only play up to where I could get that screenshot and ended up playing like 2 hours past that. And now it's 4 AM. Shit.